If you could be stuck in an elevator with a famous person — living or dead — who would it be?
Someone asked me that question yesterday. And a name popped into my head:
Aldous Huxley.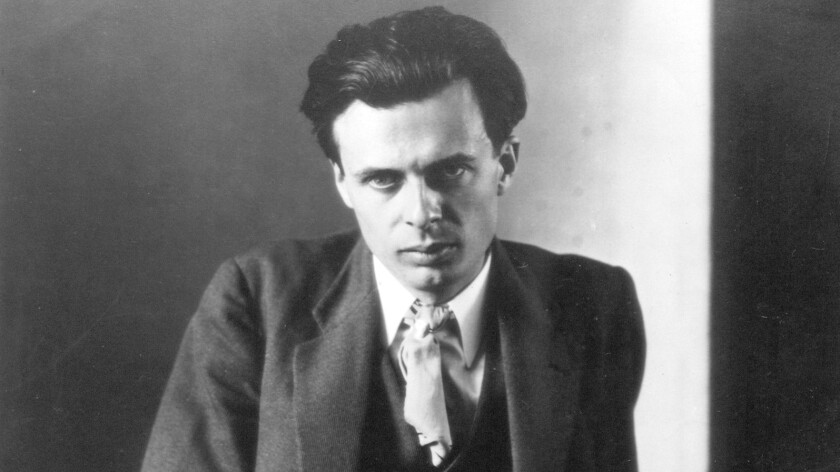 Huxley, wondering why elevators are still breaking down in 2020 
At first, I wasn't sure why I thought of him. But then I thought, well, maybe it's because I feel like I'm living in a dystopian world right now. And Huxley had more than a few thoughts about dystopian worlds.
What would he say about the state of the world today? What should we do now?
But then, maybe I know his answer…
Something like, "There is only one corner of the universe you can be certain of improving, and that's your own self." (That's a Huxley quote, by the way.)
And it's a good thing to remember right now.
We can't do anything about the economy at large. We can't make this virus just disappear, something that I think everyone in the world wishes we could do, regardless of their political party.
And as a copywriter, I can't save lives. Only the medical professionals on the front line can do that.
But I can improve my own corner of the universe. I can encourage friends and family to stay safe. I can support small businesses in my area. I can keep my business going to help my clients' businesses keep going, and to keep paying my independent contractors.
And so that's what I'm doing. I'm improving my corner of the universe. And one of the ways I'm doing that is by continuing to invest in myself via coaching. (I even signed up for a 8-week intensive to really skyrocket my growth this year.)
I'm going all in right now.
And I'm taking a small group of copywriters with me. These writers are going to get my personal attention for the next 12 weeks, as we dive into the mechanics behind winning control copy. We'll also look at markets that are doing well right now, in spite of (or because of) covid-19. And, they'll get my eyeballs on their copy, for rapid improvement.
If you want to join them, there's still time. But not much. I'm closing this program to new members on Sunday, so that I can focus on this group of Control Freaks for the next 12 weeks.
PS. Another thought: Huxley would probably have LSD on him. I've never done LSD, but if you're stuck in an elevator with Aldous Huxley, you kinda HAVE to, right?